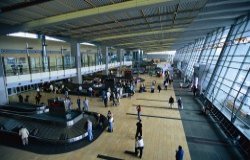 Airports
DMA have introduced two software solutions particularly suited to Airports Customer Services - an Online Complaints System and a Car Park Management solution. Both applications are geared to providing improved Customer Service.
Customer Complaints - this application has been designed to allow customers to register their complaints or suggestions online, either from their home, office or via Airport based terminals. Customers start the process by entering the details of their complaint and their contact information. The customer is provided with a unique reference which they can then use to Check the progress of their complaint or suggestion online or via the telephone.
In-house, the Airport Customer Services team can Assign each entry to an individual who will be given access to system. The solution will track all communications between the complainant and the Airport, including telephone, email and documents.
Individual staff can view all files allocated to them and management can view progress on all. A full audit of each file is carried out until such time as the matter is finalised. Actions are recorded as are refunds and compensation. This is a comprehensive and detailed management solution in an area of business that helps retain customers and increases the level of customer service.
Car Park Management - Allied to the complaints system is an additional module with the specialised content required to monitor customer's car park complaints procedures.
Business Management Software is now key to the success of any growing business. Forward thinking organisations are looking beyond their Accounting software and tired CRM solutions. They can see the real benefit of implementing software applications that fine tune their business in ways that are easy to use and simple to implement. Data Management Associates have developed an integrated suite of software that provides advanced document management, work flow and process design tools, sales process management software in addition to a range of infinitely adaptable applications that work to increase efficiencies and reduce valuable time overheads.